Current Fund Raisers
---
Saturday, June 4, 2022
12 noon - 4pm, RAIN OR SHINE
Join us for a backyard BBQ Picnic & Live Music to celebrate the grand opening of our new porches. This event includes Dessert, Lemonade/Tea & a chance to win prizes!
Carroll Mansion
1128 Fifth Avenue
Leavenworth, KS
Ticket Donation: Adult $25, Childres to 8: $10
For more than one adult and/or child,
change the quantity in your cart before making your payment.
---
A Parlor Program
At the Carroll Mansion Museum
June 11, 2022. 1:00 pm
Program presented by Diana Staresinic-Dean, Exec. Dir. Franklin County Historical Society
Members of the community are invited to attend this FREE PROGRAM !
Contact the museum at 913-682-7759
1128 Fifth Ave, Leavenworth, KS
---
Roaring '20s Casino Night:
Saturday, July 16, 2022
Riverfront Community Center
123 S Esplanade St.,
Leavenworth, KS
6:00-11:00pm
Tickets will be:
$40 tickets donation through June 30
$55 tickets donation July 1-July 15
More information coming soon
All proceeds from events benefit the Carroll Mansion Museum and the Leavenworth County Historical Society, serving Leavenworth County for over 65 years.
---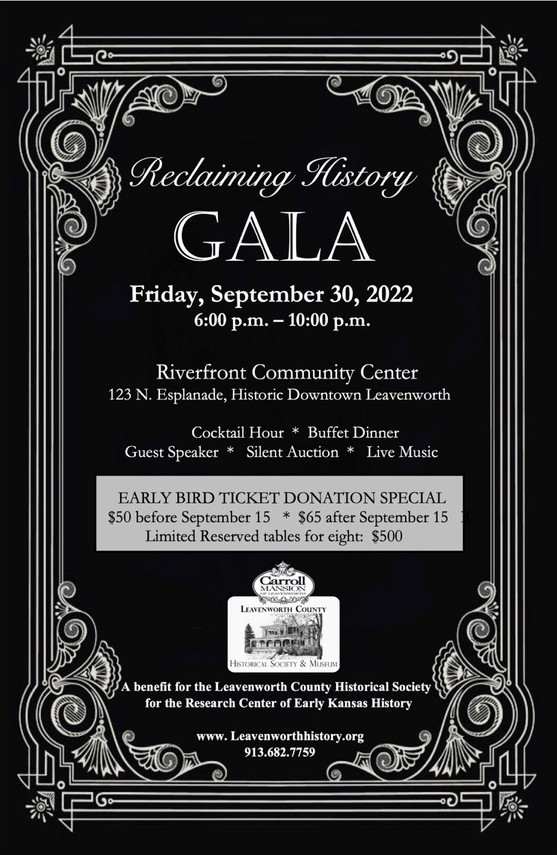 Reclaiming History Black & White Gala
Friday, September 30, 2022
Featuring Kansas City Jazz Singer Donna Tucker & her band.
Riverfront Community Center
123 N. Esplanade, Leavenworth
Sponsorship Opportunities Available.
---
Vintage Home Tour
Information coming soon
You can view the
Vintage Homes Tour
page for full information.
You may support the Leavenworth County Historical Society by becoming a Patron online with the following PayPal button (PayPal account not required).
Please choose a Patron type and specify if you are donating In Memory of/ In Honor of, then Add to Cart.