Current Fund Raisers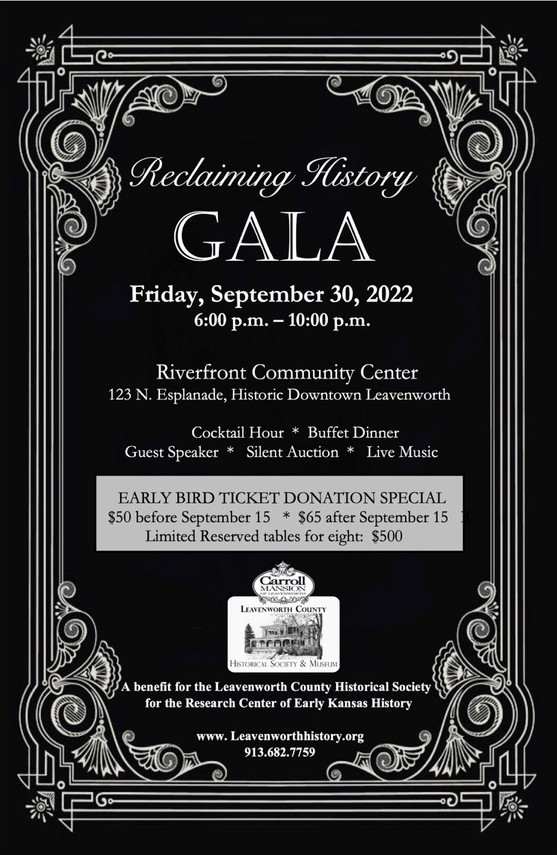 Reclaiming History
Friday, September 30, 2022
6pm - 10pm
A benefit for the Leavenworth County Historical Society for the Research Center of Early Kansas History
Riverfront Community Center
123 N. Esplanade, Leavenworth
Cocktail Hour * Buffet Dinner
Guest Speaker * Silent Auction * Live Music
Early Bird Ticket Donation Special
$50 before September 15th * $65 after September 15
Lilmited reserved table for eight: $500
Sponsorship Opportunities Available. Research Center of Early Kansas History
The Leavenworth County Historical Society has owned and operated the Carroll Mansion Museum since 1964. The society now seeks to build and endow a 21st century archive and research center to expand and enhance community activities and services provided since its founding in 1954. Such an expanded facility will securely house the historical documentation of Leavenworth County and the pioneer immigrant settlers who contributed to our unique heritage. State-of-the-art equipment will greatly aid the sharing of historical information with visitors, scholars, writers, filmmakers, genealogists and historians in one easily accessible locaiton.
The archive and research center will include a researach library, event space with audio/visual capabilities, archival storage for artifacts, workrooms for volunteers, a catering kitchen, and ADA accessible parking, restroom, and entrances.
Get your tickets now !
Change quantity of tickets when you checkout
You may also make a direct donation
Click the Donate button to make a direct donation


---
Vintage Home Tour
Information coming soon
You can view the
Vintage Homes Tour
page for full information.
You may support the Leavenworth County Historical Society by becoming a Patron online with the following PayPal button (PayPal account not required).
Please choose a Patron type and specify if you are donating In Memory of/ In Honor of, then Add to Cart.
---
Roaring '20s Casino Night 2022:

Riverfront Community Center
123 S Esplanade St.,
Leavenworth, KS
For multiple tickets, change quantity in your cart at checkout.
All proceeds from events benefit the Carroll Mansion Museum and the Leavenworth County Historical Society, serving Leavenworth County for over 65 years.
Roaring '20s Casino Night Sponsors
We thank all of our local Leavenworth County sponsors for their support.
Please give them a thank you for supporting the Society when you visit their place of business.
Moonshine Mugs
Julius Kaaz Construction Company, Inc.
Moonshine Glasses
Platinum Automotive
Penny Black Band
Frontier Community Credit Union
Full House-Roulette Table
Mutual Savings Association
Full House-Craps Tables
Kramer & Associates CPAs
The Reilly Company
3 of a Kind
Butler's Muffler & Auto Repair
Kansas Country Store
Law Office of Joe Kobs, LLC
Bootlegger-Money Wheel
Davis Funeral Chapel
Bootlegger Bingo
Lisa and David Buehler
G & W Properties