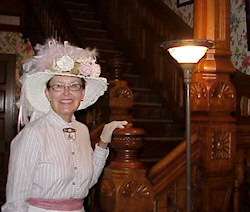 Carroll Mansion &
Museum Gift Shop Hours
1128 5th Ave, Leavenworth, KS 66048
Ph. 1-913-682-7759
Email:
Contact Us Online
Year Round Operating Hours
Tuesday-Saturday: 10:30am-4:30pm
Last tour at 3pm
Closed: Sunday, Monday and all major holidays, Thanksgiving week, Christmas and New Year's weeks.
Also closed for private events & inclement weather, so it is advised to call ahead.
Holiday Closings:

Veterans Day Closed: November 11th
Thanksgiving Week: Closed November 25th, 26th, & 27th
Christmas & New Years: Closed from Dec. 24, 2021 to Jan. 4, 2022.
See Home Page for winter hours of admission
Admission
$10.00 per person
Free for children under 5
Tours
A visit to the museum allows the visitor to "step back in time" and experience the Victorian era in Leavenworth County. Once the home of five prominent families, the Carroll Mansion features elaborately hand carved woodwork throughout the house, beautiful stained glass windows and elegant antiques from the Victorian era into the early 20th century. The museum also provides visitors with an overview of the history of Leavenworth County, which can also be researched in the extensive resources located in the museum.
We do ask that visitors call and make an appointment with our staff before arriving at the museum
For group tours, please schedule with museum.
Organize a visit to the Carroll Mansion Museum when friends visit Leavenworth, as a club outing, or a family reunion for a personally guided tour.
Leavenworth County Historical Society members are always welcome free of charge.
Museum Gift Shop Hours
During the Mansion's normal hours of operation, you may make a purchase from a selection of gift items, area history books, holiday and specialty items.