Welcome to the Carroll Mansion Museum

Home of the Leavenworth County Historical Society
The Museum has lifted mask requirements for visitors and staff in alignment with local measures. We encourage everyone to follow best practices and guidelines to stop the spread of germs in accordance with CDC guidelines. Cleaning protocols and hand sanitizer stations remain in place throughout the Museum.
If you have any questions on our precautions or our schedule, please do not hesitate to contact us at
913-682-7759
or email us utilizing our Contact page.
---
The Leavenworth County Historical Society endeavors to tell the unique stories of Leavenworth's citizens through exhibits and programs. A visit to the museum allows visitors to "step back in time" and experience the Victorian era in Leavenworth County
General Hours

Tuesday-Saturday
10:30 am-4:30 pm

Last Tour entry at 3:15 pm
OUR MUSEUM
Since 1965, visitors from around the world have walked through the doors at 1128 Fifth Avenue and been transported to Victorian Leavenworth. Renovated from an 1858 four-room farmhouse to a 16-room Queen Anne Victorian over a 20-year period, the Carroll Mansion reflects the ideals held by Victorian society about status, education, and economic stability.

The Carroll Mansion Museum is listed on the National Historic Register and is the oldest continuously operating museum in Leavenworth County. The museum offers weekly tours, frequent programs, and several community outreach opportunities. It is here the rich history and heritage of Leavenworth County is collected, preserved, and shared.
---
MUSEUM HAPPENINGS
IN THE MEDIA
---

Featuring:
The Miss Everhard
Glass Plate
Negative Collection
A collection of nearly 30,000 glass plate negatives depicting a century of Leavenworth history in portraits was purchased in 1997 by LCHS from the
Autry Museum of Western Heritage in Los Angeles, California and returned to Leavenworth.
Since most of the collection is identified by name, the researcher of Leavenworth or Family History may discover a portrait not previously known.
Museum Gift Shop
Protecting our heritage with every purchase.
We offer guests a selection of Leavenworth prints from the Everhard-Phillips Glass Plate Negative Collection, greeting and post cards, the museum's annual historical calendar, local history books (new and previously loved), and specialty and seasonal items. LCHS members receive a 10% discount. Take home a piece of Leavenworth history today!
A Carroll Mansion Video
Greenwood Cemetery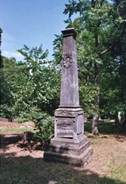 Through the efforts of the Leavenworth County Historical Society, the Greenwood Cemetery, owned by the City of Leavenworth, has been placed on the Register of Historic Kansas Places and the National Register of Historic Places as of May 16, 2022.
The Greenwood Cemetery Preservation Commission was formed in 2021 to ensure ongoing care and preservation of this pioneer cemetery.
Donations are being accepted by the Leavenworth County Historical Society, 1128 Fifth Ave., Leavenworth, Kansas 66048.
You can visit their Facebook page at:

Greenwood Cemetery Preservation Commission - GCPC