Welcome to the Carroll Mansion Museum

Home of the Leavenworth County Historical Society
WINTER HOURS
ANNOUNCED
The Carroll Mansion Museum, home of the Leavenworth County Historical Society, 1128 Fifth Avenue, is returning to a tradition of years past. During the long and unpredictable winter months of January and February 2023, the museum will only be open for tours and research by appointment. This will allow time for volunteers and staff to conduct inventories, routine maintenance, cleaning, training, and making preparations for general operations, programs, and fundraising events for the new year.
Should a group tour or research be desired, an appointment can be made by calling the museum 913.682.7759 and leaving a message.
Research requests may also be made through this website.
The museum will re-open on March 1, 2023 with a return to a regular schedule, Tuesdays through Saturdays 10:30am to 4:30pm, closed on holidays and during inclement weather.
---
The Leavenworth County Historical Society endeavors to tell the unique stories of Leavenworth's citizens through exhibits and programs. A visit to the museum allows visitors to "step back in time" and experience the Victorian era in Leavenworth County
General Hours

Tuesday-Saturday
10:30 am-4:30 pm

Last Tour entry at 3:15 pm
OUR MUSEUM
Since 1965, visitors from around the world have walked through the doors at 1128 Fifth Avenue and been transported to Victorian Leavenworth. Renovated from an 1858 four-room farmhouse to a 16-room Queen Anne Victorian over a 20-year period, the Carroll Mansion reflects the ideals held by Victorian society about status, education, and economic stability.

The Carroll Mansion Museum is listed on the National Historic Register and is the oldest continuously operating museum in Leavenworth County. The museum offers weekly tours, frequent programs, and several community outreach opportunities. It is here the rich history and heritage of Leavenworth County is collected, preserved, and shared.
---
MUSEUM HAPPENINGS
IN THE MEDIA
---

Featuring:
The Miss Everhard
Glass Plate
Negative Collection
A collection of nearly 30,000 glass plate negatives depicting a century of Leavenworth history in portraits was purchased in 1997 by LCHS from the
Autry Museum of Western Heritage in Los Angeles, California and returned to Leavenworth.
Since most of the collection is identified by name, the researcher of Leavenworth or Family History may discover a portrait not previously known.
Museum Gift Shop
Protecting our heritage with every purchase.
We offer guests a selection of Leavenworth prints from the Everhard-Phillips Glass Plate Negative Collection, greeting and post cards, the museum's annual historical calendar, local history books (new and previously loved), and specialty and seasonal items. LCHS members receive a 10% discount. Take home a piece of Leavenworth history today!
A Carroll Mansion Video
Dedication Ceremony at Greenwood Cemetery
The Greenwood Cemetery Preservation Commission (GWCPC), established under the auspices of the Leavenworth County Historical Society, has announced that Greenwood Cemetery has been named to the National Register of Historic Places.
A ceremony to recognize this momentous event will be held at the cemetery (Limit Street and 15th Street) on 2 October 2022. The ceremony will begin at 2:30 p.m.
Parking will be at Henry Leavenworth Elementary School; busses will be available for transportation between the parking lot and the cemetery. The backup date, in case of inclement weather is 16 October 2022.
The Mayor of Leavenworth will be the guest speaker, and the public is invited to attend. Contact the Leavenworth County Historical Society for more information. Tours of the cemetery will be available, and a guide will be on-hand to help families locate headstones and to discuss the history of this 160-year-old cemetery.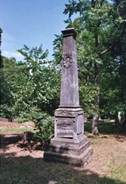 Greenwood Cemetery Leavenworth, Kansas
The recently discovered headstone of Civil War veteran John O. Seely (1853-1907), 94th Illinois Volunteers, who is buried in Greenwood Cemetery, Leavenworth, Kansas. Other lost headstones are waiting to be found, and the Greenwood Cemetery Preservation Commission is looking for volunteers to help search. We are also interested in contacting those with family buried in Greenwood Cemetery.
Donations are being accepted by the Leavenworth County Historical Society, 1128 Fifth Ave., Leavenworth, Kansas 66048.
You can visit their Facebook page at:
Greenwood Cemetery Preservation Commission - GCPC

---