The museum engages in a number of activities besides opening the house for tours.
Fund Raisers
The Candlelight Vintage Homes Tour
, is an annual Christmas tradition, held the second Sunday in December. Each year the Carroll Mansion and six vintage homes are opened for the public to view some of Leavenworth's beautiful vintage homes, decorated for the holiday season. All proceeds from this event benefit the Leavenworth County Historical Society.
Wild West Casino Night
June 30, 2017
Dinner & Prizes, Poker, Black Jack and MORE !!!
Experience a little taste of the flavor of old Leavenworth when the town was bustling with stagecoaches, cowboys, bullwhackers, soldiers, pioneers, and ice-cold sarsaparilla.
Read More
on how to get your tickets today!
Reclaiming History Capital Campaign
This is the largest capital campaign ever undertaken by the Leavenworth County Historical Society. It is a wonderful opportunity that may only come once and we should not let it slip through our fingers! Read More to get more information and watch videos about this wonderful campaign
Buffalo Bell Stampede 2016 Race Results
You can also view the Buffalo Bell Stampede
Facebook
page.
Educational Activities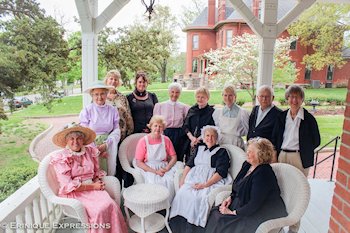 The primary educational activity
is the "Living Museum" program for third grade through sixth grade students. This popular program was developed in 1975 by the then president and a volunteer who had written a similar presentation for a Virginia Museum. The Program follows the activities occurring in an 1890's house. There are a number of characters portrayed, from the father to the cook, each talking to the children in character. For instance, the cook describes her modern kitchen with its ice box and washing machine.
The living museum has been featured in the local press many times, and in regional publications such as Kanhistique, Kansas Magazine!, and on KCTV-Channel Five News. This regional coverage speaks volumes for the quality and impact of this educational program.
Saturday Morning Presentations,
Special Events and Exhibits:
The Society works diligently to provide interesting programs and exhibits, with Leavenworth history as the central topic, for the general public.
The Society has partnered with the National Archives at Kansas City and the Susan B. Anthony Birthplace Museum in Adams, Massachusetts, in bringing educational programs and events to Leavenworth.
Special exhibits offered at the museum often feature nationally and internationally known personalities with a Leavenworth connection such as Fred Harvey, Col. D.R. Anthony, and William F. Cody.
Women's History Month is commemorated in March, Miss Ella Carroll's birthday and her gift of the Carroll House to the Society in the summer, Buffalo Bill Cody Days in August, Veteran's Day in November and the Christmas holiday.

2010 Cody Exhibit

2012 Anthony Family Exhibit

---


2014 Carroll Family Exhibit

2013 Harvey Family Exhibit

---




Our Soldiers in World War I

---

2016 Wollman Family Exhibit

(Ancestors of Henry W. Bloch)