Miss Everhard
Photograph Collection
A collection of nearly 30,000 glass plate negatives depicting a century of Leavenworth history in portraits was purchased in 1998 by LCHS from the Autry Museum of Western Heritage in Los Angeles, California and returned to Leavenworth.

Miss Mary Ellen Everhard
(1887-1971)
The Everhard Photograph Collection is named after Miss Mary Ellen Everhard who owned and operated a photo studio in Leavenworth, Kansas, from 1922 to 1968. She was not only a gifted studio photographer, but a photography archivist. she had the vision to acquire and preserve thousands of negatives taken by four other photographers whose images of Leavenworth County people and places. Those predecessors were Richard Stevenson (1824-1891), his son Horace Stevenson (1867-1951), Ebenezer Elijah (E.E.) Henry (1826-1915), and his stepson Harrison Putney (1864-1950). At the time of her retirement, Everhard sold her entire collection to Chicago photographer and historian David R. Phillips. Mr. Phillips subsequently sold some 25,000 negatives from the collection to the Autry Museum of Western Heritage in Los Angeles, California, and others to the Amon Carter Museum in Fort Worth, Texas. In 1998 Leavenworth County Historical Society raised the funds to purchase the Autry Museum collection and transport it back to Leavenworth. In 1999, the Society purchased 3,600 more negatives directly from Phillips.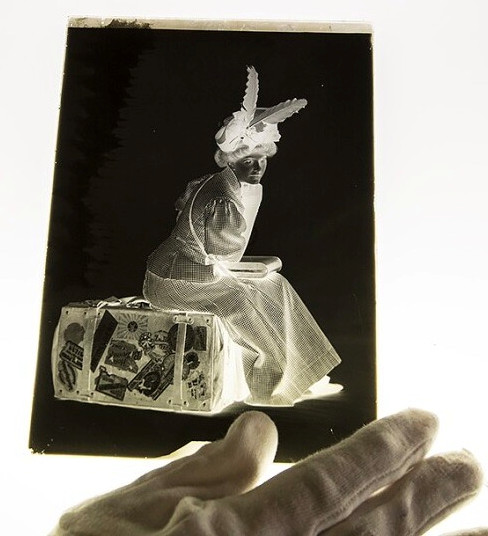 Glass Plate Negatives
The majority of images in the LCHS collection are studio portraits, but there are also street scenes, outdoor group portraits, residences and other subjects as well. The negatives reveal a visual cross-section of Leavenworth County citizenry and scenes representing the first century of the county's history.
The Everhard Collection is a rare, fragile, irreplaceable and one-of-a-kind historical artifact. It's value will endure and be enjoyed beyond its time. We invite you to step back in history and possibly even discover your own ancestors.
View some sample photographs from our collection on our Samples page
Discover Your Family in the Everhard Photograph Collection !
Since most of the collection is identified by name, the researcher of Leavenworth or Family History may discover a portrait not previously known.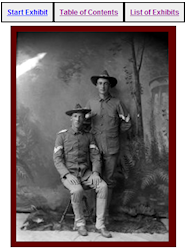 View Virtual Exhibits of Glass Plate Images
As the photograph collection is digitized, images will become available for viewing. The online Virtual Exhibit "Men in Uniform" featured here is an example of some of our images. We also have Victorian women, families, children, houses, clergy, weddings, babies, men with mustaches and beards, hats, etc., as subject categories in the collection.
Use the Search function to find a family name or just browse the images. If you find an image you would like to purchase in the Virtual Exhibit or the searchable name only database, a form is available for ordering.
This is a fund raising project for the museum. Prints or jpeg images are available for sale.
Start The Exhibits
Reproduction Prints Available for Purchase
The LCHS is in the process of scanning the glass plate negative images into print-ready digital formats using an Epson scanner and the Adobe Photoshop computer program. The name of this collection will be known as
The Mary Ellen Roach Higgins Digital Collection
. Mrs. Higgins donated the necessary funds to purchase the equipment for digitizing the images and continues to support the on-going effort. From these digital images, black and white photo reproduction prints can be ordered and purchased.
Purchase Original Image Reproductions
After searching the Everhard Photograph Collection database, available online from an alphabetical name list (accompanied by a thumbnail digital image when available), a black and white print reproduction of the scanned image can be ordered, with no enhancement or retouching applied.
Purchase Restored Image Reproduction
A black and white print reproduction of the scanned image can be ordered that will first undergo enhancement or retouching, such as the removal of scratches, cropping and/or the restoration of an image where damage has occurred from emulsion deterioration or breakage to the original negative plate.
Un-digitized Photo Guide
Where no digitized image accompanies a name from the online database, the museum will scan the image as soon as possible for viewing online.
Reproduction Images
All images from the Everhard Collection are the property of Leavenworth County Historical Society and may not be reproduced in any way without written consent. Commercial use of images is subject to service fees. (Contact Everhard Collection Dept. for contract.) We require that all images be credited to the LCHS, Everhard Collection.